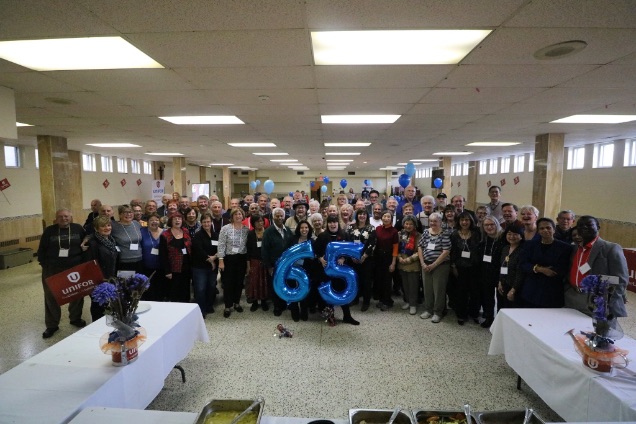 UNIFOR LOCAL 673 HISTORY IN THE MAKING..
I wanted to tell the story of our Local with the help of the leadership over the years, what started with a little information grew to a much wider view of our history. Understanding where we came from is critical if we're going to be able to imagine where our union will go in the future. As we end this year 2019, Unifor Local 673 celebrates 65 years of working for justice in our workplaces and in our communities, we look back on a remarkable journey that working people have taken within our local. The story of our Local begins with the story of deHavilland aircraft, the Canadian deHavilland plant came into being in Weston Ontario in 1928 owned by the British deHavilland Company of Hatfield England where they assembled British built "Moth" series of Aircrafts. By 1942 the workforce was organized by the UAW and a charter was granted to Local 112.
On January 27th, 1954 the office workers applied for their own charter to better represent them within the office and local 673 was formed. Around the same time deHavilland moved operation to its present location in Downsview airfield at the Canadian Forces Base in Toronto. On May 27,1974 the Canadian Government bought deHavilland when Hawker Siddeley balked at investing in deHavilland's first large commercial aircraft the DASH 7. deHavilland already had developed a sturdy line of Bush Planes, the Beaver, Otter, Twin Otter, the Caribou and the Buffalo aircrafts. The late 70's seen the development and manufacturing of the deHavilland DASH-8 aircraft rolling out in 1983.
In January 1986 Conservative Trade Minister Sinclair Stevens gave deHavilland to Boeing of Seattle for $90 million. The 1987 strike symbolized the plight of our new Canadian National Union CAW. In this alteration, not only were we fighting the almighty Boeing Corporation, but also the Big 3 auto makers as well. If Boeing would have been successful in forcing the deHavilland workers to accept concessions, then the auto makers could expect the same. Our local union endured a bitter 10-week strike and conceded to none of Boeings concessionary demands. We not only set the pattern for our new Canadian Union but laid the necessary groundwork for auto workers to obtain indexed pensions. Boeing 24 pages of demands included takeaways to most areas of our collective agreement. (continental work weeks, mandatory shifts, mandatory overtime, and elimination of most seniority provisions within the agreement, including layoffs. The strike will always be remembered as one sweet victory for Local 673 members.
The sale of deHavilland to ATR would have been disastrous for us in both the short and long term. Would the French and Italian governments invest in Canada, or would they succumb to pressure to produce in house? The chain of events from July 1990 until the deal was killed by Investment Canada and the European Commission leaves little doubt as to their real motivations. As the major competitor to deHavilland, would they continue to diligently market the DASH-8 100-300 series, or would they market their ATR-42? Would they continue deHavilland's long tradition of building complete aircraft or would we be supplying parts to their final assembly operations in France? All these questions are easily answered. Our two demonstrations, the Progressive Conservative Headquarters and Federal Industry Minister Michael Wilson's office, our law suit headed by Local 112 President Jerry Dias against the Federal Government, combined with the tremendous media attention, allowed us to do what no other group has been able to accomplish having the Federal Conservative government block a sale through Investment Canada. In over 900 applications, deHavilland is the only proposal ever rejected. This came as a result of hard work and much sacrifice by those members who gave their time and risked discipline to stand and fight for what they believed in. Finally, by January 22nd, 1992 under pressure of the CAW and the Ontario NDP government a joint ownership of deHavilland partnered with Bombardier Group of Companies and the Ontario Government split 51/49.7
December 2017, Bombardier approached the Bargaining Committees of Locals 673 and 112 to advise on their plan to sell our Q400 program and the Downsview lands where the Q400 and Global Family of aircraft are built. Both Locals entered full time, off site discovery meetings in January 218, to fully understand Bombardier's plan, it's implications for our Members and our ability to resist any plan that would be detrimental to our Members. We recognized very early in this process that we were facing a historic fight and a poor result would be felt for decades. As such, solidarity between both Local Unions and our National Union was paramount. Together, we proceeded to do our collective homework. We met with representatives of the Federal, Provincial and Municipal Governments. After numerous meetings with Governments and the resulting continuous dialogue, we understood that Bombardier in fact had the ability to sell the Downsview lands. As we could not block the sale of the lands, both Locals and our National Union embarked on a campaign to apply political pressure on all three levels of Government to not allow the rezoning of the Downsview lands from industrial to residential as this would have significantly increased the value of the property making it more attractive for sale. This was in hopes that a reduced property value would have dissuaded Bombardier from pursuing the sale. While these efforts were successful, Bombardier was able to sell the lands for what is widely thought to be above market value for lands zoned as Industrial.
We then turned our attention to the intended sale of the Q400 program. The sale of the Q400 would have had a disastrous impact on our Memberships as the Q400 has higher labour requirements as compared to the Global family of aircraft. In order to sell the program, Bombardier required both Locals to give up work commitment language in our Collective Agreements as it was unlikely that any potential buyer would be interested in purchasing the program with Collective Agreements attached. Both Locals proceeded to investigate replacing work in exchange for the Q400 program. It became apparent that Bombardier would have differing abilities to replace work in each Local. The only avenue left to compensate for work that was not replaced would have been to sell these jobs for packages and the work would be permanently lost. This was unacceptable. Bombardier continued to pressure both Locals to come to an agreement. This pressure came to an abrupt halt following dialogue between National President Jerry Dias and Bombardier President and CEO Alain Bellemare where Bombardier decided to change course with respect to the Q400. Full credit to Brother Dias as this dialogue also resulted in the suspension of the "Wing and Cockpit Agreement" which allowed Bombardier to outsource the Q400 wing and cockpit. This was a big win as both Locals had the removal of the Wing and Cockpit Agreement in our proposals for the upcoming Collective Bargaining as our contracts were to expire June 22, 2018.
Both Locals then proceeded into Collective Bargaining with Bombardier. We knew that the property was sold, and that Bombardier's plan was to move the production of the Global family of aircraft to a yet to be built facility at Pearson airport and that they had no intention of building the Q400 at that location. Contractually, both Locals were extremely concerned that while we had work commitment language for the Q400 and Global 5000/6000 (rebranded to 5500/6500 during bargaining), we did not have commitment language for the new Global 7000 (rebranded to 7500 during bargaining) which would be the driver for the bulk of the labour requirements long term. The absence of Global 7000/7500 commitment language left both Locals at risk that Bombardier would produce only the Global 5000/5500/6000/6500 at Pearson and the much coveted Global 7000/7500 program could be built elsewhere. Bombardier had threatened this during the previous discussions regarding the sale of the Downsview lands and the Q400. We had also recently seen the movement of some Global finishing work from GCC to Wichita, so we took this threat seriously. We knew that our top priority must be to secure commitment language for the Global 7000/7500 and we had a clear mandate to do so from our Members. Meanwhile, Bombardier had vowed that "they would never again agree to commitment language for any program at any site going forward". Bombardier had just experienced the repercussions of program commitment language and their inability to sell the Q400 program was fresh in their minds. This was on top of all the usual concessions proposed by the employer and gains proposed by the Union. We continued to force our agenda at the bargaining table and in the early hours of June 23, 2018 reaching a tentative agreement with Bombardier. We were successful in ratifying a three-year agreement on the 24th of June.
November 8, 2018, Bombardier announced the sale of the Q400 aircraft program assets, including aftermarket operations, to a wholly owned subsidiary of Longview Aviation Capital Corp for approximately $300 million. According to reports, the sale agreement covers all assets and intellectual property and Type Certificates associated with the Dash 8 Series 100, 200 and 300 as well as the Q400 program operations at Downsview. The announcement came as complete shock to Unifor and is a betrayal to our 673 members. During the 2018 contract negotiations Bombardier advised they were selling the Q400 and the Downsview lands, all on board the National departments; Research, Legal and Communication supported our campaign to stop the sale of the Downsview Lands and the sale of the Q400. A huge victory when Bombardier announced they were committed to Unifor they would not sell the Q400 in exchange Unifor would stop the campaign against the sale of the Downsview Lands
In comes Longview November 16th,2018 we met with David Curtis, CEO of Longview Aviation Capital Corporation. This was an introductory meeting only, however David did confirm the following:
* The agreement of sale was made on November 7, 2018
* The sale is subject to regulatory approval.
* The sale is expected to close in or around June 2019.
* The sale includes the de Havilland name and trademark.
* Longview will operate at Downsview until at least 2021 and will abide by the terms of the current Collective Agreements
We recognized through the discovery process and the diligent work of our National Union's Research and Legal departments that the sale of the Q400 program adhering to Article 69 of the Labour Relations Act was in fact legal. While Article 69 ensured that the successor employer, now known to be Longview Aviation Capital, had all the same obligations under the CBA, it did not obligate Bombardier or Longview to consider seniority with respect to how our Membership would be divided between the two respective companies as the Bombardier CBA did not provide our Members the right to choose aircraft programs by seniority. We knew this would be unacceptable to our Members which was confirmed after canvassing the Memberships of both Locals. Given what we had learned and with the full support of our National Union, Locals 673 and 112 chose for the first time to negotiate with Bombardier together. We entered into negotiations with Bombardier attempting to reach an Employee Transition Agreement that would address our Members' seniority concerns and provide greater options and protections than Article 69 alone would ensure.
The Employee Transition Agreement among other things, provides mobility rights to our Members at deHavilland who would have had the seniority to exercise bumping rights at Bombardier should the Q400 program have ceased instead of being sold. These Members can bump back to Bombardier in the event of an opening occurs within Bombardier. The remaining Members in the new deHavilland unit have the right to join a blended Bombardier recall list should the deHavilland production operation cease.
On June 1st, 2019, the Downsview Bombardier facility was divided between 2 separate employers, Bombardier and deHavilland which is a wholly owned subsidiary of Longview Capital. The Local 673 Membership was divided into 2 separate units, the Bombardier and the deHavilland units. Local 673 representatives for both Bombardier and deHavilland was mirrored due to the Successor Rights under the labour act, both units elected the same number of representatives to both CBA.
McDonnell Douglas MDCAN. Since opening in 1945 the Avro Malton plant had its share of boom times, 50,000 workers kept busy with the high-profile orders such as the CF-150, as the Arrow in the 1950s. In 1959 after only one year of flight tests and production the Arrow program was cancelled. In 1962 the Avro Canada aircraft production facility was transferred to deHavilland Canada by their then merged parent company, UK based Hawker Siddeley and in 1963 entered into a joint venture with Douglas to manufacture wings and tail assemblies for the DC-9 jetliners. Douglas Aircraft of Canada was formed in 1965, and in 1968 the company purchased deHaviland's buildings and surrounding property. At the time the Avro workers were part of the International Association of Mechanists (IAM) when deHavilland bought this plant, meanwhile the workers in Downsview were UAW Local 112/673. After a campaign by both locals the workers decided in favor of UAW 112/673, which then represented both Downsview and Malton plants. After a merger the plant became Boeing Toronto in 1997 and closed it doors in 2005 demolishing a very historic sigh that housed so many phases in aviation, the site remains a parking lot and empty field.
SPAR – The long history of SPAR began with the acquisition of the de Havilland Canada's Special Products Division in 1967 (i.e. Alouette 1).
-In 1969, Larry Clarke manager of the Spar Division Spar bought York Gears Limited and the following September officially opened its new head office on Caledonia Road in Toronto.
-In November 1990, the R&O operations, known as the Aviation Services Division, moved to a new building in Mississauga, Ontario. SPAR's major projects included the complete overhaul of the Royal New Zealand Air Force's 40-year-old C-130 Hercules aircraft. Other customers included the Royal Norwegian Air Force, United States Coast Guard, and Greece's Hellenic Air Force. SPAR performed several avionics upgrades and a Depot Level Inspection and Repair (DLIR) for the Canadian Forces Air Command CL-41 Tutor aircraft flown by the Snowbirds acrobatic team.
-October 1986, It was a very hard and trying time for our SPAR members with a 17 week strike that took them over Christmas and wasn't settled until February of 1987, but the solidarity and support they demonstrated for their union during that strike sent a clear message to the corporation that they were not prepared to lose any fights at the weigh in. The membership had always been solidly behind their union then when the chips were down. Nowhere was this more evident than during that set of negotiations. Their efforts and support during the last couple of days were a major factor in achieving an unparalleled contract during these recessionary times. In 1998 Par sold its gear division to Radyne and in 1999 sold the Candarm division to MDA leaving them with only the R&O operations. In 2001, the business was acquired by L3 Communication, membership started to retire and due to mis management the they closed the SPAR division July 31st, 2014.
MDA (MacDonald, Dettwiler and Associates) purchased the division that developed the Canadarm robotic arm that is used on space shuttle missions and on the International Space Station. MDA acquired the Canadarm business from SAR Aerospace May 10th, 1999 employment was at a high of 450 as one of Canada's leading information and technology companies, with a focus t become Canada's leading space company and to become a world-class provider of information, products and services. MDA recognised the contribution of the union for its many years of supporting programs and lobbying all levels of government in 2014 Unifor was gifted with the first integral component of the joint position sensor on the shoulder of the original Canadarm. During its operational life it flew on all of the NASA's space shuttles. This was a historic value to our members and retirees to be part of the work they have contributed and going forward into the future. The "part" now resides at Unifor Family Education Centre. In 2017 acquiring Digital Globe, MDA will be named Maxar Technologies. In 2018 Unifor in partnership with MDA on a major campaign to save Space in Canada, #dontletcanadago, in February 2019 Minister Baines announced that Canada commitment to the Lunar Gateway program totals CAD $2.05 billion over the duration of the program. The Lunar Gateway will be a Moon-orbiting outpost that will support persistent human activity on the lunar surface and serve as short term habitat for astronauts, a communications node, a science laboratory and a staging ground for exploration into deeper space.
Bourgue Electronics joined the 673 family in 1989 however due to a long strike and the Employers' unwillingness to continue with the business this relationship was short lived. This was an interesting experience as negotiations with this company revealed that the employer wanted increased hours of work, along with pay cuts of 3% which would total 10% cuts. In addition, the employer wanted to eliminate rest times and have workers continue working while taking refreshments.
In 1987 Green Shield Health Insurance employee's in Toronto moved from CAW and joined local 673, unique to our local we share a Collective Agreement that was already in place with local 240 who represent Green Shield workers in Windsor. Even though we try to bargain Green Shield Health Insurance into our Unifor collective agreements they are still an employer and our members continue to fight for rights beyond the standards.
In 2013 Toromont Lab Technicians requested the right to organize their workplace, it took seven months for the employer CAT to sit down. April 21st, 2014, nine new members ratified their first agreement. It was not long before we realized that CAT was not happy to have one more unionized workplace under their belt. We managed to increase our numbers, provide the best workmanship, yet after Toromont acquired the company Hewitt who had a larger non-union laboratory, they closed the Lab on April 9, 2019 moving the work to Quebec.
The National approached the Local in December 2018 on taking on a newly organized workforce from the Toronto Skating, Curling and Cricket Club. These workers organized for many reasons, respect, fair treatment, low wages from maintenance, food and beverage to kitchen staff these workers pursued Unifor to represent them. Training and Education was our first initial to help the workers, we entered bargaining 5 months after being certified, it was difficult to retrieve proper information from the employer. The employer retained both lawyers and HR consultants to help with negotiations, this did not intimidate our leadership since bargaining is what we do everyday and we have resources we use to best represent our members. At the time of publishing this article we are in our 8th month of bargaining. Long hours just make us stronger, whatever it takes Unifor is ready to make it happen. Fairness and respect are our main goal in this set of negotiations and respect will be noted in wages. The employer continues to cry no money, but they are holding off till after negotiations with Unifor before increasing their own salaries. We are in this fight with all we have. Each and every member deserves respect and we are here to make sure we have the tools in place to make their lives better. As we approach one year without a collective agreement the employer is pushing back and we are ready for them. On January 18, 2020 we ratified our first agreement. We are committed to fairness and dignity for our members, we will continue to fight for our respect in the workplace and now we have the tools to support all members.
Our Local has grown many times over from the brave members of January 1954 – deHavilland aircraft 1954 – SPAR Aerospace, 1968 – McDonnell Douglas Corporation, 1999 -MDA Corporation, 1987 – Green Shield Canada, 1989 -Bourgue Electronics, 2013 – Toromont Cat, our latest negotiating of our first agreement 2019- The Toronto Skating, Curling and Cricket Club.
To our members and retirees take pride in your Local. Our experiences and history have made us who we are today, and our future continues to define us.
Some of the strengths of this local are the continuity and wealth of experience of founding Unifor in 2013 executive board members that continues to be a part of the membership, and even the current executive board. Women have also played very important leadership roles in this local, holding positionsfrom President, chairpersons at the different units, financial secretaries, recording secretaries etc. These women helped to elevate other women above those positions of merely playing hostess to our male population.Carole Philips now retired was the National Director of Education and international affairs came out of our local after having held positions within the executive board and chairperson of the deHavilland unit.Dawn Cartwright now retired was the first National Aerospace Director and a National Representative who formerly came out of the deHavilland unit. In 1979 Dawn was the first to challenge the Paid Education Leave selection committee to send more women to Port Elgin.Karen Davies former president and chairperson of the McDonnell Douglas was appointed to the ministry of labor as an arbitrator until the Mike Harris regime was ushered in. Kim Sedore past chairperson of the deHavilland unit was appointed as a National Representative after showing great leadership during a difficult set of negotiations in January 2003. Also, as a result to Kim's determination in the 1980's while out on maternity Kim was able to lobby for no lost time as a result to being on maternity and women were guaranteed their job positions upon returning even though a senior person may have been filling in for their leave. Maria Pinto a great advocate for workers and especially women, President of our local from 2004 till she retired in 2009. Maria remains very active as a retiree and sits on the National Retirees Chapter for Unifor since 2016. Other dedicated women were and are appointed to boards and councils and today women are still very involved in our local. The legacy of this local is rich with community involvement, supports many picket lines, demonstrations, the local has been participating in yearly Labor Day parade.
Now we are seeking to move to a new stage in that journey. We learned important lessons over the years by coming together and engaging our members against the austerity of both corporation and government. That showed the need for a much deeper relationship between the local, our membership, our affiliates and social justice allies.
If you have any old photos or stories you would like to share please contact our local unio office at support@uniforlocal673.org and we will be happy to receive them.
In Peace, Solidarity and Appreciation
Mary Ellen McIlmoyle
President, Unifor Local 673
Building Activism Since 1954